REPLACING MULTIPLE TEETH WITH DENTAL IMPLANTS
Boynton Beach Dental Implants – Boynton Beach FL – Implant Dentistry
Are you missing two or more teeth?
If you have lost back teeth, dental implants provide the strength and stability to let you to eat what you want and preserve your jawbone. Dentures simply don't offer the same natural feel, function, or stability.
A fixed bridge anchored to dental implants is the only fixed alternative. Traditional dentures can't offer the same stability or function.
Benefits with fixed bridge on implants:
A stable alternative to dentures
You can eat what you want
Prevents bone loss and preserves facial appearance
Step-by-Step Overview of Getting Multiple Teeth Replaced with Dental Implants
Examination & x-ray film review of the area where the implant is to be placed.  For example, if you have multiple teeth in the back of your mouth are missing, the only real solution is the installation of  a fixed bridge, which contains all teeth in one piece – anchored on dental implants.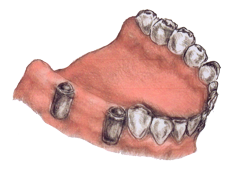 2: Placement of the dental implants
This is normally done in a single office visit. A temporary bridge may be provided to restore the area and allow you to eat and function normally. A four month waiting period is required to allow the implant to integrate with the jawbone.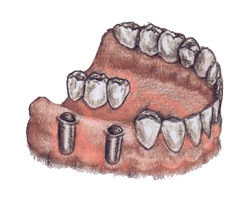 3: Preparing for the bridge
The implants need 1 – 2 months to integrate with the jawbone before the dental bridge is attached.  The wait time will vary, depending on the teeth affected and the dental aesthetics.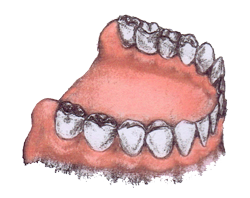 4: The final step
The permanent bridge is fabricated and placed.  The new bridge will should feel and work like your natural teeth, providing  a stable and permanent solution that gives you the freedom to eat what you want.
Not sure if implants are right for you?
To see the alternatives, click here.
Schedule your appointment today!
Contact us at 561.734.8600 or fill out this form.