REPLACING ALL THE TEETH ON YOUR TOP OR BOTTOM JAW
Boynton Beach Dental Implants – Boynton Beach FL – Implant Dentistry
Thinking about dentures?  
If you have lost all of your teeth, or are told that all of your teeth need to be replaced, dentures are not your only option. It is possible to replace a full jaw of teeth with dental implants and a fixed bridge that results in a permanent, stable and aesthetically pleasing solution. A fixed bridge to which dental implants are anchored is a permanent solution that gives you a natural look and feel without the hassle of a set of removable dentures.
Benefits of a fixed bridge on implants:
A stable alternative to dentures that lasts a lifetime
You can eat what you want
Prevents bone loss and preserves facial appearance
Step-by-Step Overview of Getting a Full Set of Dental Implants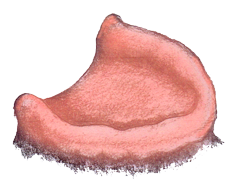 1: Before the procedure
Dr. Indictor determines what needs to be done and prepares for the upcoming treatment procedure.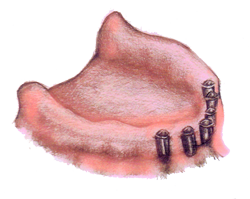 2: Installing the implants
The first step is installing dental implants to replace the lost tooth roots. Five implants are used in this case. Temporary teeth are attached that will enable you to eat and function normally while waiting for the installation of the permanent bridge.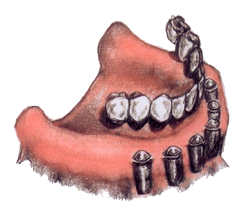 3: Attaching the bridge
The final bridge is securely installed on top of the implants. With a full jaw replacement like this, it normally takes 2-3 visits to have the bridge completely attached.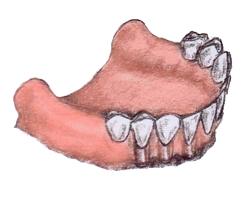 4: End result
Your new teeth should be hard to tell from natural teeth. People who have had traditional dentures before getting a fixed bridge often describe this as a very positive experience.
Not sure if implants are right for you?
To see the alternatives, click here.
Schedule your appointment today!
Contact us at 561.734.8600 or fill out this form.