Choosing and Caring for Your toothbrush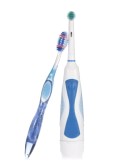 The Academy of General Dentistry ran a noteworthy article in their September 2013. Vol. 41, No. 9, AGD Impact Newsmagazine which I felt was worth sharing. It was a series of questions about the care and maintenance of your toothbrush.
What to look for when choosing a tootbrush?
The best toothbrush has a long, wide handle that fosters a firm grip. The head of the brush should be small enough to get into all areas of the mouth, with soft nylon bristles that won't traumatize the gums.
Should I use an electric toothbrush?
Electric toothbrushes use an oscillating or rotary motion to clean the teeth.
They can cover a larger area of the mouth faster than a manual toothbrush. They are especially suited for those with braces undergoing orthodontic correction, those who need extra motivation to brush and those who have difficulty operating a manual toothbrush due to age, disability or other factors.
If you do use an electric toothbrush, avoid excessive pressure. Instead use light force and slow movements. This allows the brush to do the work for you. It is not uncommon to experience slight bleeding during the initial period of use; this will resolve with time. Children age 10 and younger should be supervised while using a electric toothbrush.
How often should I change my toothbrush?
Old toothbrushes with worn and frayed bristles will not clean your teeth effectively; they may also harbor harmful bacteria. You should change your toothbrush- or brush head, in the case of an electric toothbrush- every three to four months. If you are sick with a cold or the flu, you need to change the brush as soon as the illness begins and again once the illness has subsided. This will help to get rid of any germs and bacteria on your toothbrush.
How can I keep my toothbrush clean?
Wash your hands both before and after brushing to avoid transferring bacteria and food particles to your toothbrush.
After brushing, rinse your toothbrush thoroughly to remove excess toothpaste and other debris, and soak the brush in antiseptic mouthrinse to eliminate lingering bacteria. Also note: never share toothbrushes, as this habit can lead to the transmission of colds and/or bacteria.
How should I store my toothbrush?
Store it upright and let it air dry before using it again. Microorganisms are more likely to grow in a moist environment, so don't cover your toothbrush or store it in a closed container. Because bacteria can travel from brush to brush, don't store you toothbrush in the same container with someone else's toothbrush in it as well. Finally keep your toothbrush as far away from the toilet as possible to avoid contamination from airborne bacteria that are released with each flush.
Lastly it is recommended that you brush your teeth for two minutes twice a day and visit the dentist regularly to maintain good oral health.
East Boynton Dental knows about toothbrushes: just ask us! We also know about Tooth Whitening; you can ask us about that as well!