Maury S., is 65 year old disabled male who lives locally. He was previously a Materials Technician by vocation. As his life progressed, however, he found himself in worsening financial position and progressing health and mental disorder including a debilitating kidney disease as well as Bi-polar Disorder.
Included with his physical health issues, his dentition also suffered from a lack of care. He lacked the finances to repair and maintain his dentition. With his dentition in disrepair, his concept of himself also was effected and he became more depressed. Moreover, he wasn't able to eat a diet that would foster controlling his diabetes.
However, through social services, with the help of affiliated Dentists and Dental Laboratories, Donated Dental Services under the auspices of the Florida Board of Dentistry, Maury, was able to get his dentition rehabilitated.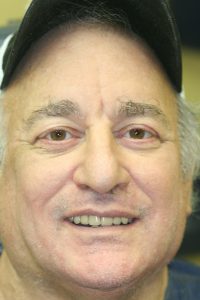 It was our pleasure to assist Maury, at this time.  We at East Boynton Dental wish him well and hope that the changes we gave him will also change his perspective and outlook on life.  We know we gave Maury, something to smile about!